5.15.23 – KOIN TV Interview and story.
5.13.23 – Vote!
5.12.23 – Portland Tribune: Multnomah County Commissioner candidates talk emergency preparedness, outside employment
5.1.23 – Portland Tribune: Multnomah County commissioner candidates talk about population decline, inadequate county plans
4.30.23 – TV! KATU's Your Voice Your Vote segment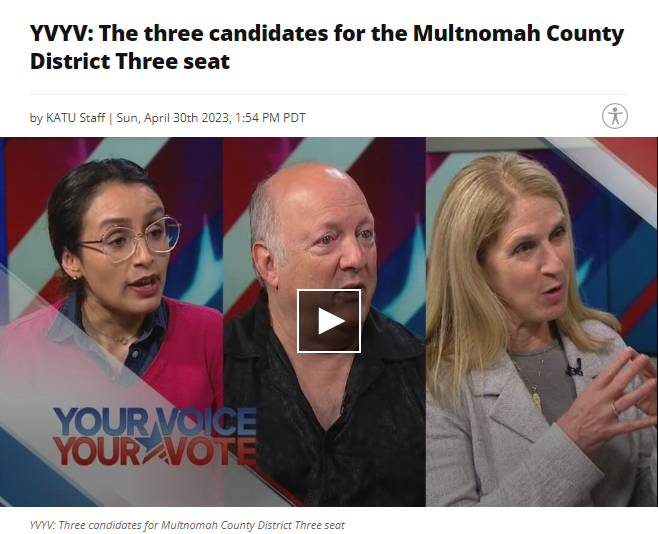 4.28.23 – Oregonian's Endorsements and Our Video Interview
4.26.23 – WWeek's Endorsement article. Video version!

4.25.23 – OPB's Think Out Loud Candidate Interview + Campaign Update Newsletter.
4.24.23 – Article in the Oregonian about Montavilla Candidates' Forum.
4.22.23 – Happy Earth Day. Taj Baker interviewed me on KBOO for Earth Day. My part begins at minute 39.
4.21.23 – League of Women Voter's Candidate Forum.
My personal interview with LWV
4.15.23 – My Campaign Newsletter + Public Speaking Classes (Free)
4.5.23 – The WNA Meeting 4/5/23 Commissioner Candidates for District 3 has been published on YouTube. You may access the video via the link below. Just my portion here. Feel free to share.
4.3.23 – Campaign Newsletter #3 – Free Public Speaking Classes
3.23.23 – Last night I participated in a community forum with the East Portland Action Plan organization. One other candidate, Ana del Rocío, also participated. The questions were good ones and I did my best to answer them.
3.19.23 – This week I had a Zoom interview with representatives from Unions United 2023 which is a collection of local Portland unions. Here are the questions I was asked. I think people might find these fascinating. I think I did a decent job in the interview, but some of the questions were very difficult given that the union members work for a variety of public sector organizations – not just Multnomah County.
3.16.23 – WWeek article about campaign donations. I am not taking donations in this race.
3.10.23 – Article about the Race in the Portland Mercury by Isabella Garcia
3.5.23 – News from the Campaign Trail – Please sign up for my periodic campaign news.
2.17.23 – Oregonian Announces Candidates for the first time.
2.17.23 – Willamette Week announces candidates for the first time